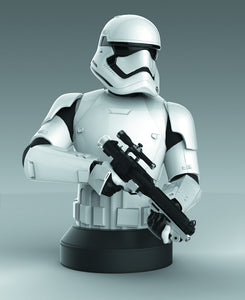 Star Wars E7 First Order Stormtrooper Deluxe Mini-Bust
Regular price $186.95CAD Sale
GENTLE GIANT STUDIOS. The story that started on a Tattoine moisture farm a long time ago, is coming back to give us the next chapter of a saga in a galaxy far, far away. Gentle Giant Ltd. will be keeping pace, by delivering high quality collectibles, starting with Star Wars: Episode 7, The Force Awakens!

Gentle Giant Ltd. is proud to present the first of our Deluxe Mini Busts for Star Wars: Episode 7, The Force Awakens with the new familiar design, The First Order Stormtrooper! Like the Imperial Stormtroopers, and Republic Clone troopers before them, these ominous figures clad in white armor are the foot soldiers of evil.

Created using top of the line 3D technology to design, model and prototype, this Deluxe Mini Bust is the first of our celebration of new collectibles for the new films. Each Deluxe Mini Bust is hand cast, hand painted and hand numbered with a limited edition size. Gentle Giant Ltd. looks forward to bringing collectors many more characters from the Star Wars franchise, may the force be with you!